---
Canada's smallest and westernmost territory
Seeing photos of the Yukon's national parks was what first convinced me that I needed to visit Canada. The territory is wild, mountainous and very sparsely populated with only about 35,000 people on almost half a million km squared.
Day 1 – Saturday
JJ and I flew to the territorial capital Whitehorse from Winnipeg via Vancouver, a looong day that began with us checking in to the airport at 5 AM. Yukon is a couple of hours behind Manitoba so we arrived in Whitehorse at around lunch time and picked up a car at the airport. When the rental company guys showed us a diagram with the current damage to our hire car, there were dots and squiggles all over, including a horizontal line through the windscreen indicating a massive crack. The vehicle was described to us as having "Normal Yukon wear and tear", and we were told that as long as we didn't smash the windscreen more we wouldn't be charged for extra dings – nice one.
Our first base in the territory was a cabin on Kluane Lake, so after a delicious lunch at Klondike Rib & Salmon in Whitehorse, we headed to the supermarket and liquor store to get supplies for the next 3 days. Kluane Lake in the south-west area of the Yukon is the largest lake contained entirely within the territory. The lake is 224km from Whitehorse and the nearest community is Destruction Bay on it's southern shore.
It took about 3 hours to drive to Kluane Lake from Whitehorse, we arrived at around 7 PM. Just before we reached our cabin we drove through the eerie Silver City ghost town, carefully avoiding the snowshoe hares and arctic ground squirrels darting across the road.
Our lakeside cabin
Outside our front door
Evening at Kluane Lake
Ghost town car (not our rental car)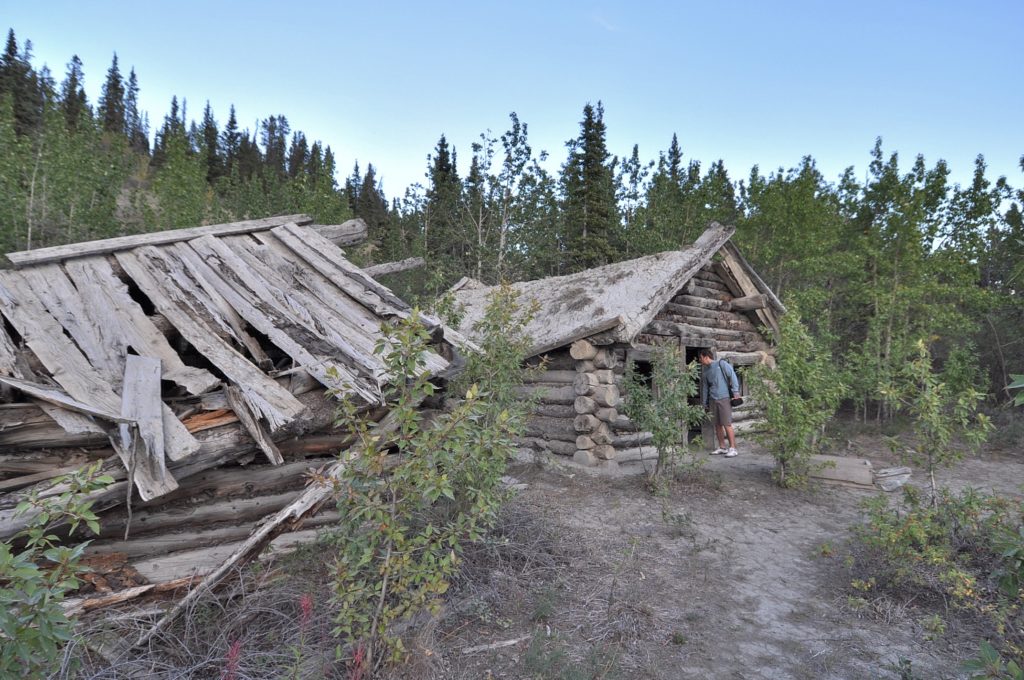 Remains of the Silver city gold rush community, founded in the early 1900's
Day 2 – Sunday
Firstly we decided to drive to Destruction Bay, to check out our nearest shopping and restaurant options. I was really glad we had enough provisions to last our 3-night stay as the options in Destruction Bay were expensive and limited, never the less we stopped for morning tea at the Talbot Arm Motel.
Cecile (the lovely owner of our cabin) recommended we hike the Sheep Creek Trail, so next, we headed to the nearby Tachäl Dhäl (Sheep Mountain) Visitor Centre for some trail info. Unfortunately the Sheep Creek Trail was closed due to 'bear activity' so we didn't see any dall sheep, instead, we chose to hike the breathtaking Bullion Plateau Trail.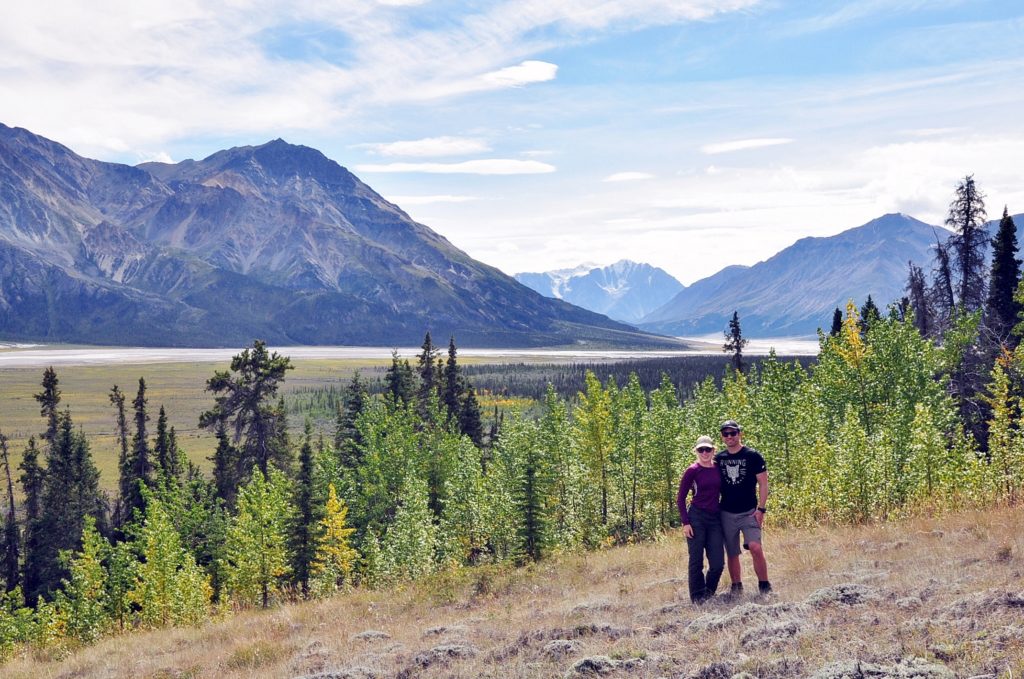 Bullion Plateau Trail
Day 3 – Monday
Today we drove 56km to Haines Junction and stopped at the Kluane National Park and Reserve Visitors Centre to get some info on hiking a section of the Alsek Valley Trail. Kluane National Park is home to Canada's highest peak (5,959m Mount Logan), its largest ice field and North America's most genetically diverse grizzly population. Before driving to the trailhead we had morning tea at the Village Bakery & Deli – great cakes and pastries, I highly recommend a stop here!
Arctic ground squirrel
End of the trail for these shoes!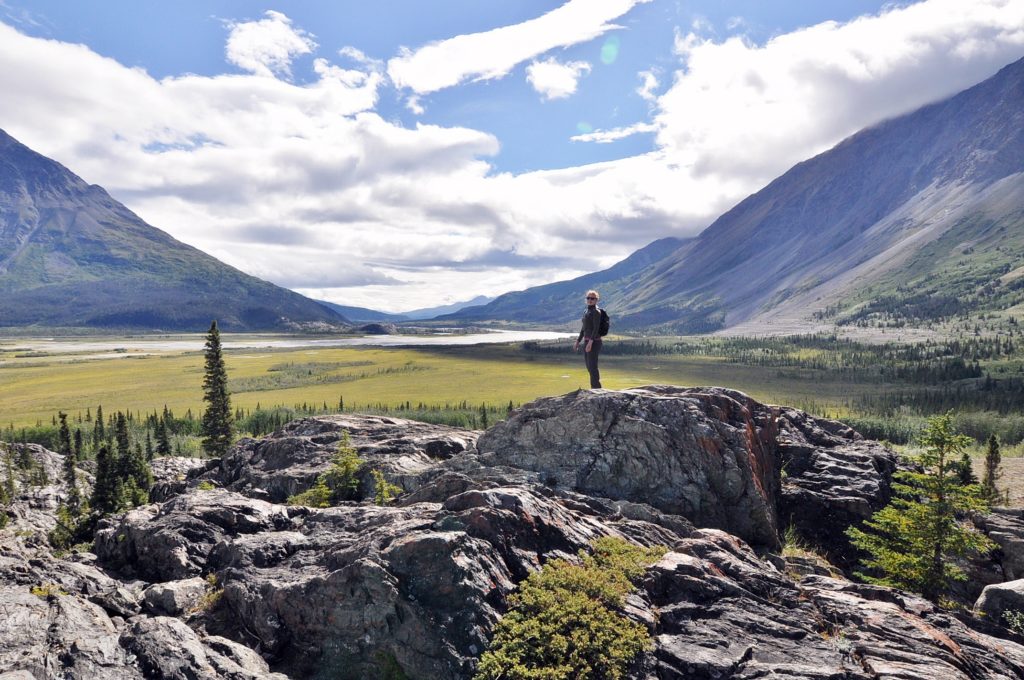 Awestruck in the Alsek Valley
Unfortunately, my hiking shoes suffered a critical blowout on this trail but luckily; 1. it happened as we were returning to the car, only 2km from the trail head and 2. JJ always carries gaffer tape. What's unbelievable about hiking in the Yukon is how few people you see on the trails, we only saw 4 or 5 others on this hike.
Day 4 – Tuesday
It was time for us to move cabins today, to the Wheaton River Valley just south of Whitehorse. We had to re-stock for the next 3 days in our new home and I needed new hiking shoes, so we spent a couple of hours in Whitehorse to get lunch and sort ourselves out. Driving south on the Alaska Highway towards Whitehorse we saw a small grizzly bear crossing the road. Even though we'd already seen a lot of grizzlies in BC, this accidental sighting was a bit of a shock and made us realise just how easily you can cross paths with a bear in the Yukon.
As we were heading out of Whitehorse we stopped in at the Yukon Beringia Interpretive Centre. We learned about the inhabitants of the Bering land bridge that connected North America with Siberia in the last ice age. Well worth a visit if you're as fascinated by megafauna as I am!
Woolly Mammoth
Jefferson's Ground Sloth
Our final stay in Canada was at the Wheaton River Wilderness Retreat, just under a 2-hour drive south from Whitehorse. This secluded river cabin was completely off the grid with no running water, propane lighting, a wood burning stove and typical northern outhouse – a true wilderness living experience.
Our peaceful riverside cabin
Wheaton River
Day 5 – Wednesday
There were some local trail maps in our cabin and after weighing up the options, we decided to hike up Tally-Ho Mountain in the Annie Lake region. We'd heard that the mountain was prime habitat for caribou and as we hadn't seen any caribou yet, this was pretty exciting. Although beautiful, hiking this trail was slightly nerve-wracking as we saw fresh bear poo and fresh (LARGE) grizzly tracks!
Caribou near Tally-Ho summit
Summit of Tally-Ho Mountain
Day 6 – Thursday
Our final day in Canada and the Yukon Territory was spent in historic Carcross. The town of Carcross was a hunting and fishing camp for local First Nations people at least 4, 500 years ago, and in the late 1800's became a popular stop for gold prospectors heading to Dawson City. On the way to Carcross, we made a quick stop at stunning Emerald Lake.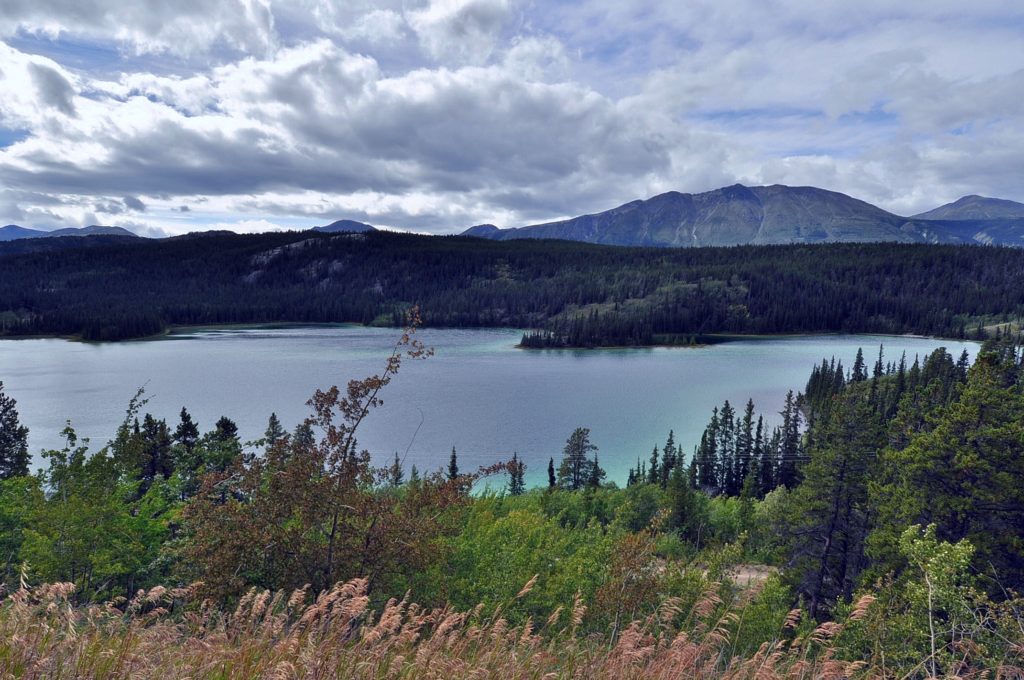 Emerald Lake
Eagle totem, Carcross
Carcross railway station
St Saviours Anglican Church, Carcross
Carcross Desert cross country ski trail
On Friday morning we drove back to Whitehorse airport and started our long journey back to Sydney. JJ and I had a fantastic time in Canada and were definitely very sad to leave this incredible country. We saw orcas, grizzlies, polar bears and beluga whales in the wild. I still can't believe how fortunate we were to have had all these bucket list experiences in one trip! Back to reality…..but maybe, just maybe I'm already planning my next adventure…..
What do you think, would you add Canada to your travel list?