Arrive refreshed, rested + ready to take on the world after long haul flights
With only a couple of weeks to go before JJ and I head to Canada for 3 weeks I'm tackling my packing strategy. The contents of my carry-on personal item haven't greatly varied for the last 3-4 long-haul flights that I've taken, so I know I'll be pretty happy with what I'm bringing on the plane with me. We're flying economy direct from Sydney to Vancouver and it'll be the first time we've paid extra for preferred seating, I'm looking forward to seeing if the extra $$$ make a noticeable difference to comfort levels!
Carry-on personal item, the Crumpler Headaitch medium tote
Width: 41 cm, height: 30.5 cm, depth: 12.5 cm, volume: 18 litres, weight when packed: 4.5kg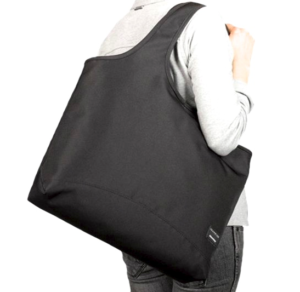 This tote will serve as my everyday bag for sightseeing type activities. I know it's not super fashiony but it is lightweight, can handle getting wet and I don't mind if it sits in a dusty/muddy car foot-well because it's easy to clean. I also love carrying a zip-up tote bag like this because I can throw my padded camera bag inside it and no one is any the wiser that I'm carrying expensive gear around.
Contents
These are the only things I should need access to during the flight. Click on the images below for details:
In addition to the above of course I bring; my passport, currency, spare passport photos, printed confirmations, wallet, keys, compact mirror, pen and a Kleenex Pocket Pack.
So there you have it, not ultra-minimal but I refuse to compromise on in-flight comfort especially if I have to hit the ground running on arrival. We land in Vancouver at 7:30 AM and can't check-in to our accommodation until the afternoon, so I need to maximise my chance of catching those Zzzzz's on the plane otherwise day 1 of the holiday will be a very long one!
So what are your in-flight essentials? Let me know your must-haves in the comments below. I'll be taking a wheeled carry-on for the overhead bin and a small checked bag as well so I'll write a separate post about that before I go…..