Visiting the polar bear capital of the world
On the edge of the Arctic and the western shore of Hudson Bay lies the small frontier town of Churchill. This unique community is accessible only by plane or train, with Thompson, about 400km to the south, being the nearest settlement.
Churchill is most famous for being situated on a polar bear migratory path. During autumn, bears head towards the shores of Hudson Bay from the tundra, earning Churchill the nickname 'Polar Bear Capital of the World'. Residents of Churchill leave their cars and houses unlocked to offer an escape for pedestrians who encounter polar bears in town.
During summer, thousands of beluga whales move into the warmer waters of the Churchill River estuary to calf and feed on capelin. At this time of year, polar bears are around as well and can mostly be seen along the shoreline.
Last month, JJ and I spent 5 days in Churchill with the Lazy Bear Expeditions 'Ultimate Arctic Summer Adventure' tour package. Return flights from Winnipeg were included in the package, so our adventure began with an evening in Manitoba's provincial capital. We were lucky enough to be in Winnipeg on one of the 2 days that the Royal Canadian Mounted Police Musical Ride Tour was in town, so we bought tickets for the show at Assiniboia Downs.
RCMP Musical Ride
Dome formation
Day 1 – Monday
After our afternoon arrival into Churchill airport, we were welcomed by our guide Dave and met the other members of the 'Arctic Hare' group that we'd be travelling with for the next few days. Once everyone was signed in, the group boarded a school bus for the first activity – a cultural and heritage sightseeing tour.
Polar bear jail
Polar bear traps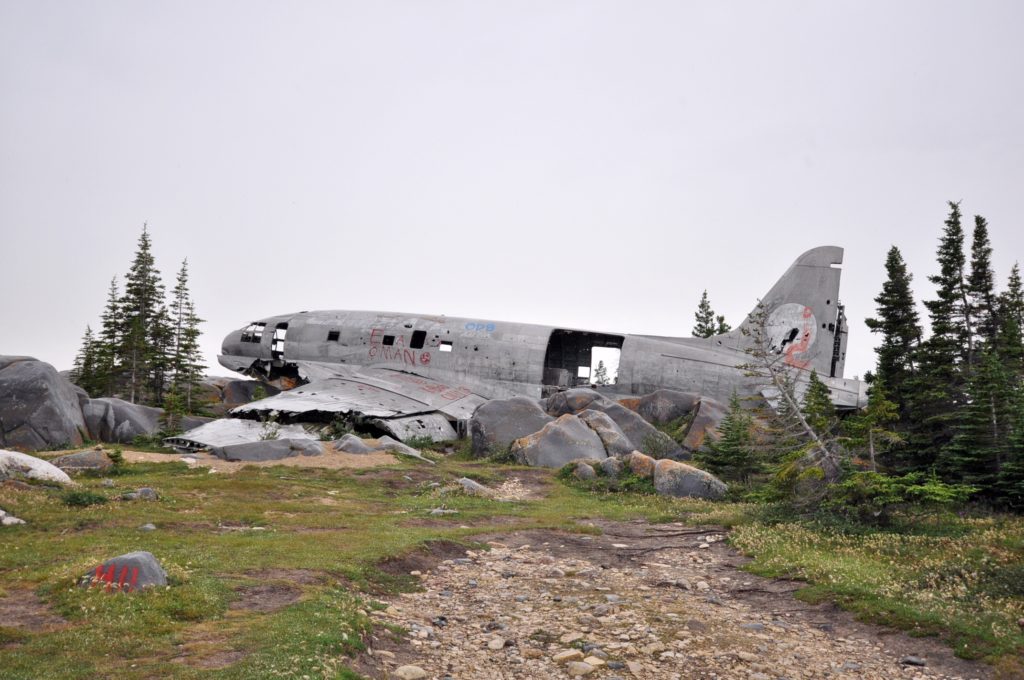 Wreck of Miss Piggy
Local sled dog team pups
Cape Merry
After the tour, we headed to our room to shower and change before dinner. The accommodation was warm, comfortable and clean with a full bathroom and two double beds. Our outlook was across the tundra behind the lodge, so what little time we spent in our rooms during daylight hours was spent watching the local bird life and trying to spot bears. Lazy Bear Lodge is crafted from boreal forest trees and old railway sleepers – it's exactly the type of place you'd hope to experience in this part of the world.
The Lazy Bear Cafe was great. The food is delicious, prepared using local produce (some from Lazy Bear's own greenhouse) and the portions are generous – we ate most of our meals there.
Lazy Bear Cafe
Chilling after dinner
After dinner, we went for a stroll along the beach behind the Churchill town centre complex.
Inuit Inushuk marker on the beach
Town centre complex
Day 2 – Tuesday 
Today was bucket list day. The group survival suited up, ready for several hours of Hudson Bay coastal touring by boat to view polar bears and beluga whales – we saw plenty of both!
Slimming survival suits
Bear lounging near the port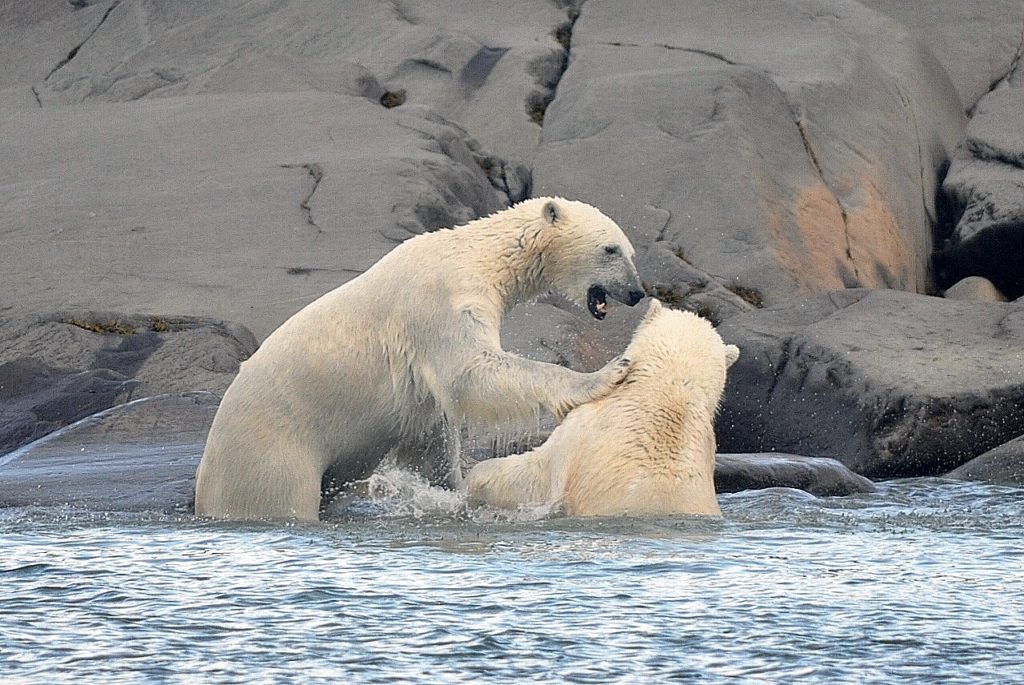 Bears sparring
Nothing to see here
Friendly beluga
Day 3 – Wednesday
The group was split today as we divided into 2 small boats for alternate tours of the Prince of Wales Fort and beluga spotting. We saw a couple of bears off in the distance from the fort and a gyrfalcon which was awesome.
Prince of Wales Fort
Arctic tern
The boat tour was only around 3 hours so after we were dropped off at the lodge we had lunch and then headed into town to check out the local shops.
Tonight's dinner venue was Gypsy's Bakery and Restaurant. I'd heard good things about the food and service at Gypsy's and was definitely impressed. Our server was Fred and he recommended we go 'off the menu' – what we got was a bit of an extravaganza. We had a cheese and charcuterie board as an appetiser, followed by grilled Caesar salads (yep that's a thing) and then seafood pasta for me, arctic char for JJ. We felt right at home in this family-run restaurant and the food was excellent.
Day 4 – Thursday
We put our names down to go snorkelling with the beluga whales first thing (an optional summer add-on). The whales were surprisingly interactive, even mothers with calves, we really got up close and personal with them and there were so many! The water was absolutely freezing but the experience of playing with belugas rendered the cold barely noticeable.
Belugas heading straight for us
Canaries of the sea
Our next tour wasn't until the evening so after lunch at the lodge, JJ and I went to visit the Eskimo Museum which was really informative and definitely worthwhile. At 5 PM we met our group back at the lodge and headed out on a tundra buggy to the wreck of the SS Ithaka.
Tundra buggy
Guide on bear watch in the background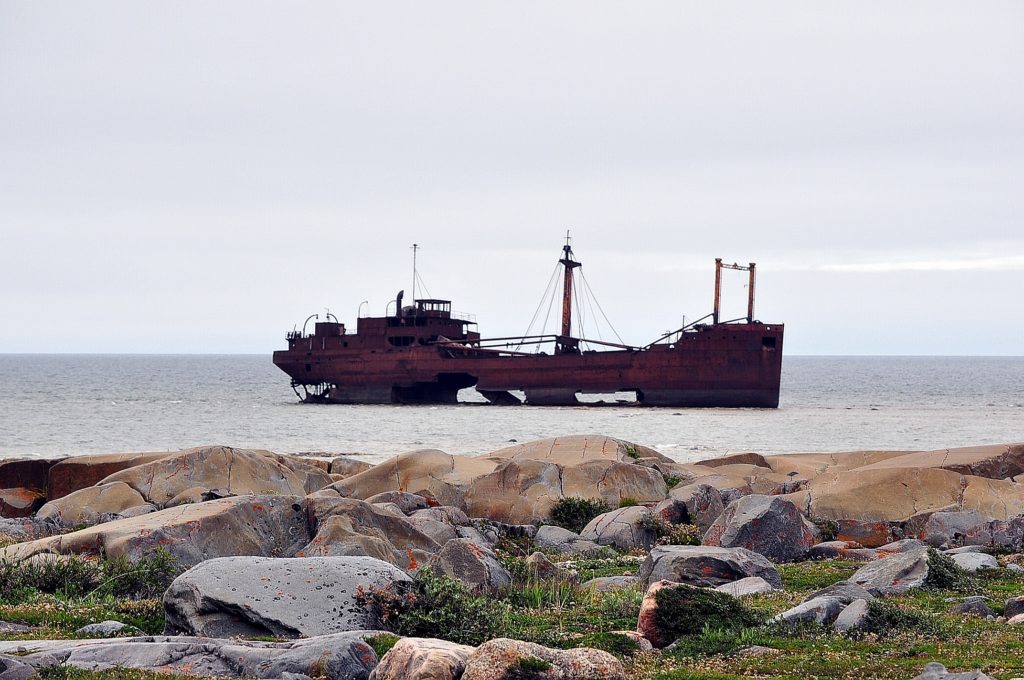 Wreck of the SS Ithaka
Day 5 – Friday
JJ and I were due to leave Churchill at around midday and catch our flight back to Winnipeg, but the flight was delayed due to inclement weather. No complaints from us as we saw an osprey at the Goose Creek observation tower, and got to visit the Churchill Northern Studies Centre which was fascinating. Am I geek? Sometimes I think I might be.
Yay science!
Bye guys
I feel so privileged to have had the opportunity to spend this brief time in the polar bear capital of the world, my expectations around the number of bears and the viewing distance were absolutely surpassed.
The Lazy Bear staff were all super friendly and accommodating, they work extremely hard that's for sure. Shout out to our guide Dave for looking after us, making us laugh and sharing his knowledge of the Churchill sites and fauna – we loved every minute!
Next week's final (I promise) Canada trip post will be about our time in the incredible, wild and beautiful Yukon…..