Why does this Canadian city consistently rank amongst the world's most liveable places?
Aside from Vancouver's cleanliness and high standard of living, it's a vibrant, cosmopolitan city with a relaxed and friendly vibe. The Vancouverites we met were fun-loving, led healthy lifestyles and enjoyed spending as much time as possible outdoors. As JJ and I live in a Pacific harbour city (Sydney), we knew Vancouver would feel a bit familiar which might have been part of its appeal. The major difference between Sydney and Vancouver I guess is the weather during colder months, but visiting in late July we were blessed with long days and perfect summer temps in the high 20s – woohoo for escaping southern hemisphere winter!
How we spent 4 ½ days in Vancouver…..
Day 1 – Saturday
Our flight arrived at 7:30 AM and we knew we weren't going to be able to check into our Kitsilano Airbnb until late morning, so we got a taxi to Café Zen on Yew which was recommended to us by our lovely hosts Tim and Tanya. Apparently, this café is quite a popular weekend brunch spot and it can be difficult to get a table, we had no problems finding a seat at 9 AM. Café Zen's breakfast menu is extensive, reasonably priced and tasty.
From the café, it was a less than 5-minute walk to Kits Beach so we headed there to chill and people/dog watch until we could drop off our bags, shower and change.
Vancouver is very walkable and it's super easy to navigate. Most of downtown is surrounded by water with a seawall that's great if you're into roller-blading, running, skateboarding or cycling. We wandered along the seawall from Kits Beach to Granville Island in the afternoon to check out the market and get some snacks, walking there took about half an hour.
View from the Granville Street Bridge
Public Market from the Granville Street Bridge
Under the Granville Street Bridge
Granville Island Public Market
Granville Island Public Market
Ocean Concrete silo art, Granville Island
Once we'd eaten we headed back to our Airbnb along West 4th Avenue. We knew it'd be a mistake to amble down a well-known shopping street in our jetlagged states, needless to say, credit card damage was done (mostly in the Arc'teryx store).
After a 30 min snooze and a quick change we headed to Nook Restaurant on Yew St. We got there quite early (around 6 PM) and had no problems getting a table, but noticed a long queue forming not long after we were seated. My advice is get to Nook early on weekends as they don't take reservations. JJ and I both had pasta dishes and were impressed – delicious Italian food, great service and a warm atmosphere accompanied by Aperol Spritz's…..yesss!
We ended day 1 with a stroll along Kits Beach to Point Grey. Ideally, we would have hung around for the first fireworks of the Celebration of Light competition, but by 9 PM we were struggling to keep our eyes open. Jetlag sucks.
Kitsilano Beach
Kitsilano Pool and Showboat
Day 2 – Sunday
First on our hit list was Vancouver's oldest neighbourhood, Gastown. The decision was made to walk to get our bearings of downtown which took about an hour from Kitsilano. We strolled along Water Street checking out the old buildings, vintage lampposts and the famous Gastown steam clock which unsurprisingly had a swarm of tourists around it taking #selfies. To get away from the crowd we ducked into Buro Espresso Bar for caffeine and sandwiches.
From Gastown it was on to Stanley Park. We hired bikes from Urban Waves on Nicola Street, Coal Harbour, which is right next to the park entrance. We rode the seawall to Third Beach, then cut up the stairs to cross the road and join Lovers Walk which becomes Squirrel Trail and runs past Beaver Lake – we didn't see any beavers, but we did see a couple of shrews.
Next, we headed down to Lost Lagoon via the Bridle Path and back to Coal Harbour. I definitely recommend getting off the seawall as we found it waaaay too busy, possibly because it was the weekend. On the forest trails we only came across one other couple cycling and a handful of walkers, it's much more peaceful and you have a better chance of seeing wildlife.
Brockton Point Lighthouse, Stanley Park
Lions Gate Bridge, Stanley Park
On the way back to Kits we browsed the Robson Street shops and stopped by Edible Canada on Granville Island for pulled pork poutine. I have no poutine benchmark as this was my first ever taste, but I thought it was pretty darn good. Their house-infused lavender rum hot chocolate was to die for as well!
Edible Canada, Granville Island
Edible Canada, Pulled Pork Poutine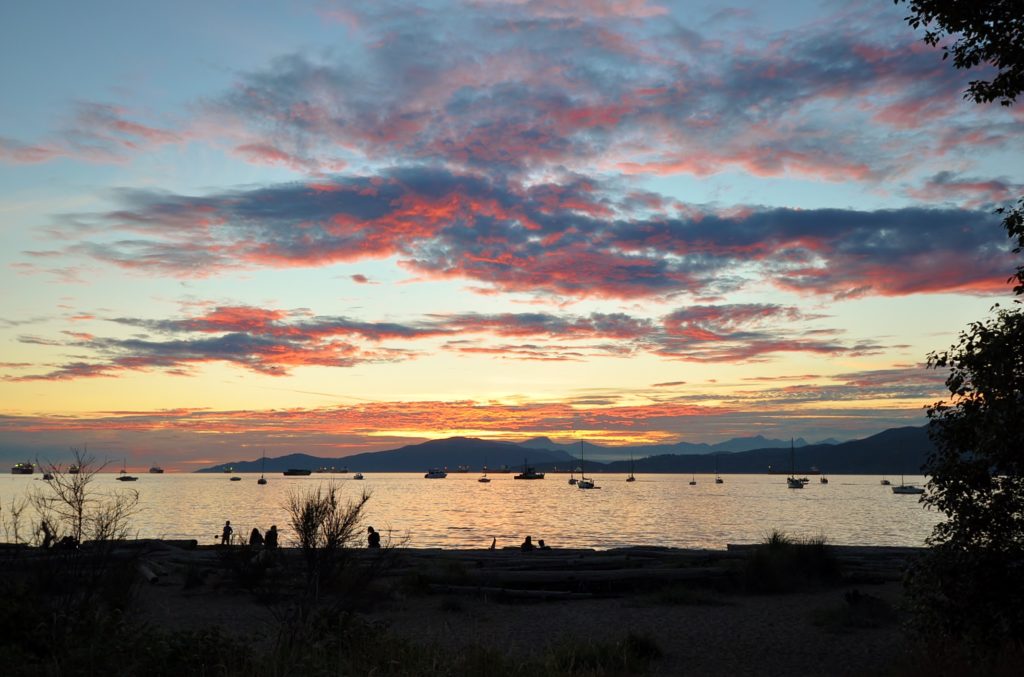 Vanier Park Kitsilano at sunset
Day 3 – Monday
Today was all about Vancouver's peak, Grouse Mountain. We were jetlagged/lame and got up late so opted out of hiking the Grouse Grind. If you do decide to hike instead of getting the cable car (Skyride), it's a pretty cheap day out because the shuttle bus from Canada Place to the base of the mountain is free! We walked to Canada Place from Kits (which took about an hour) and bought 'Peak Experience' tickets at the Tourism Vancouver visitor centre. While we were at the visitor centre they were also able to book us on a whale watching boat for the following day.
Hercules the bald eagle, Grouse Mountain
View from the peak of Grouse Mountain
Our mountain passes included round-trip Skyrides, the Peak Chairlift and access to plateau activities like visits with the resident grizzly bears and a lumberjack show. Visiting Grouse Mountain is well worth your time, there's lots to see and do and the Refuge for Endangered Wildlife does amazing work to preserve at-risk fauna and flora.
Chainsaw carving
Lumberjack show
Eye of the Wind
Once back in Kits we went for awesome burgers at Local Public Eatery on Cornwall Avenue. We'd tried to get in here on Saturday night but the waitlist for a table was insane, go seriously early or on a weekday.
Day 4 – Tuesday
The visitor centre at Canada Place booked us on a whale watching boat with Wild Whales Vancouver, they operate from Granville Island so again it was an easy half hour walk from Kitsilano. If you read my travel bucket list or follow me on Pinterest, you'll know that seeing orcas in the wild would have been a great big tick off the list…..Wild Whales Vancouver did not disappoint.
Orca breach!
Mumma and baby
Seals in a lumber yard
Lighthouse Park, West Vancouver
The boat tour lasted about 4 hours (they can be up to 7 hours, take snacks!) and we saw plenty of orcas from the resident pods, mostly J pod from memory. We even witnessed a couple of breaches which was of course incredible. There were also loads of pacific harbour seals to be seen and a couple of bald eagles too. Special shout out to our naturalist guide Kieranna who clearly loves what she does (who wouldn't??), she really made an effort to speak with every person on the boat 1:1 and answer any questions – a fantastic day trip!
This evening's dinner venue was Ramen Danbo on West 4th Avenue. Our Airbnb hosts told us that one of their friends is addicted to this place and they were seriously considering a ramen intervention. Danbo makes some yummy noodles that's for sure.
Day 5 – Saturday
If you're wondering what happened between Tuesday and Saturday, JJ and I flew to Campbell River and then Knight Inlet for some bear viewing. That trip definitely deserves its own write-up so I'll post separately about it next week. Once back from Knight Inlet we had one last afternoon and overnight stay in Vancouver before flying to Manitoba. For a change of scenery, I booked us a hotel room in Steveston Village, Richmond.
My first ever raccoon encounter!
Storybrooke Country Bread
Gulf of Georgia Cannery
Fishermans Wharf
Fans of the TV series 'Once Upon a Time' will recognise Steveston as the fictional Maine town of Storybrooke. We spent the afternoon strolling around Garry Point Park, down to Fishermans Wharf and through the picturesque streets. Along the way we met a racoon and a hummingbird, it was like being in a real-life fairytale.
Towards the end of the day we headed back to the Buck & Ear Bar and Grill at our hotel for some typical pub fare and drinks in the late afternoon sun…..then they all lived happily ever after – THE END.
That was a long story wasn't it?! Well done for making it this far. I hope sharing my Vancouver itinerary was helpful for any of you planning a trip to this beautiful city, I'd love to visit again someday as there's so much to enjoy and the vibe is just spot on.
What are your favourite Van things to see, do and eat?….