One of Canada's premier wild grizzly bear viewing locations
Located 80kms north of Campbell River on Vancouver Island, is a remote area of the Pacific Northwest called Knight Inlet. 60kms from the mouth of the inlet is Glendale Cove, home to Knight Inlet Lodge, a small floating eco-resort. Glendale Cove has one of the highest concentrations of grizzly bears in British Columbia, so it made sense that JJ and I stay at Knight Inlet Lodge for our ultimate bucket list bear viewing experience.
The remoteness of Knight Inlet Lodge means that it can only be accessed by floatplane from Campbell River, all packages begin with a night at the Comfort Inn & Suites in the 'Salmon Capital of the World'. Our highly entertaining shuttle bus driver Harold recommended Dick's Fish & Chips, and after Wednesday afternoon exploring the town of Campbell River, that's exactly where we headed for dinner. Dick's didn't disappoint, the best fish and chips I've had in a long time! The place was busy, but we were lucky enough to get a table and Dick's is licensed so we just settled in with a couple of drinks while we waited for our order.
Day 1 – Thursday
Discovery Pier, Campbell River
Floatplane charter, Campbell River
The floatplane journey towards Glendale Cove was an epic beginning to the Knight Inlet adventure. As we flew into the longest fjord on the BC coast in the heart of the 'Great Bear Rainforest', we were treated to views of spectacular tree-covered mountains and glaciers.
Floatplane journey
I got to co-pilot!
Arrival, Glendale Cove
Knight Inlet Lodge
After arriving at Knight Inlet Lodge we received a warm welcome from the manager Brian, were given a short orientation and then it was cameras out, life vests on and straight into a boat. On our very first estuary tour we were stunned to see a resident grizzly, Bella, with her 3 cubs and bald eagles everywhere. The first hour following our arrival really set the tone for what was to be an incredible couple of days in this pristine wilderness.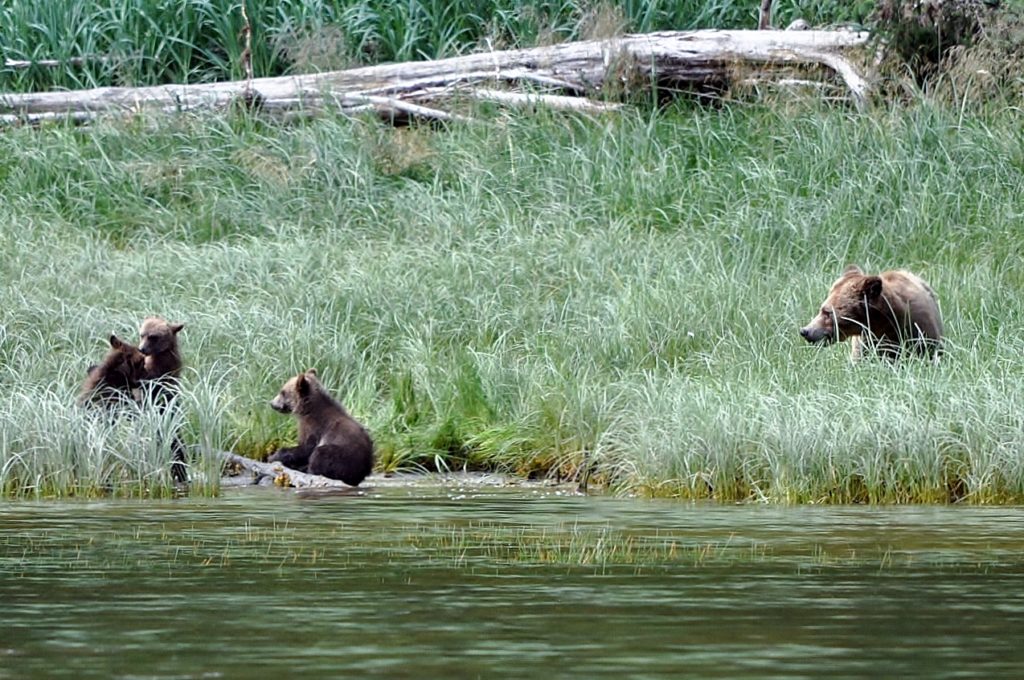 Bella and her cubs
Bella's cubs play fighting
Bald eagle in flight
The second activity of the day was a beautiful scenic inlet cruise, along the way we saw loads of Pacific harbour seals and a hump back whale.
Scenic cruise
Stunning Knight Inlet
Our final outing of the day was another bear viewing estuary tour and it was even more amazing than the first one!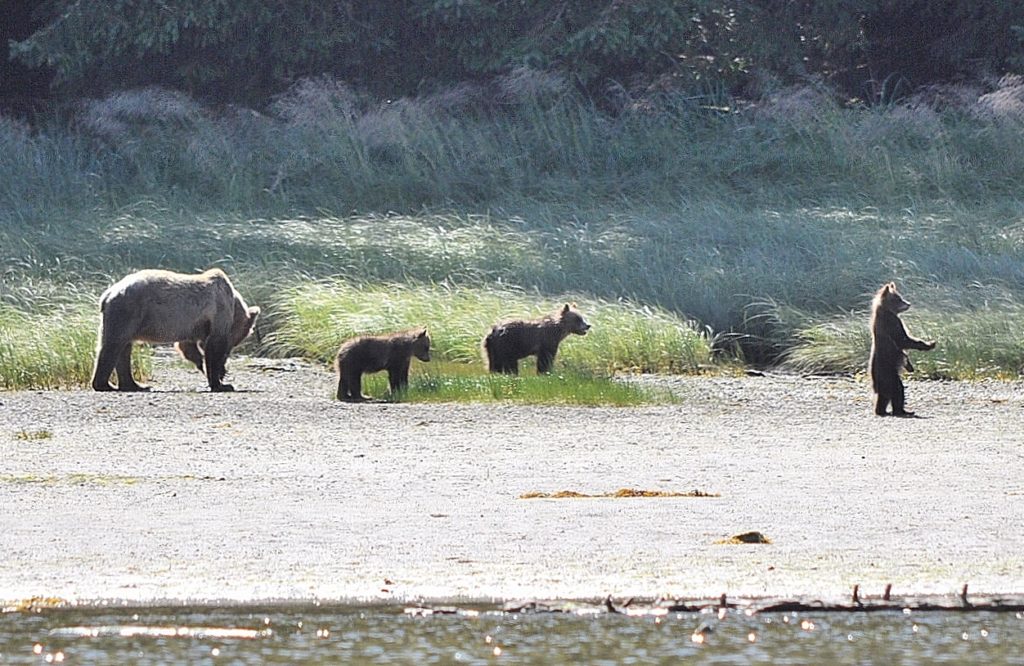 Bella and her cubs on the beach
Sub-adult grizzly
Sniffing out some snacks
Before dinner, we had a chance to head to our room to shower and change. The accommodation was warm, comfortable and clean with a full bathroom and two double beds. Our outlook was towards the back of the lodge, I'd heard that bears and other wildlife often wander down to the rocks along the shoreline, so I was very happy with our location.
The food at the lodge is delicious, it's fresh, plentiful and all meals are served buffet style. You can go into the dining room at any time during the day to help yourself to tea/coffee/soft drinks and fresh baked goods (if you have any belly room in between main meals). On our first night, we had appetisers of Dungeness crab and spot prawns caught in Knight Inlet by Geezer Jim – what a legend, we really loved chatting with him!
Cheers
JJ enjoying his crab
There's a common room with sofas and a TV at the lodge. Every evening after dinner one of the guides gave an interpretive talk on a specialist subject. Before bed, we listened to Holly's 'Marine Mammal Evolution' presentation – fascinating!
Day 2 – Friday
We put our names down for a Kwalate Valley rainforest walk as the first activity of day 2. It was only a leisurely walk, but great to stretch our legs after sitting in boats all of the previous day. Getting out in the fresh air, seeing huge moss-covered old growth trees and lovely waterfalls made for a perfect kick-start to the day!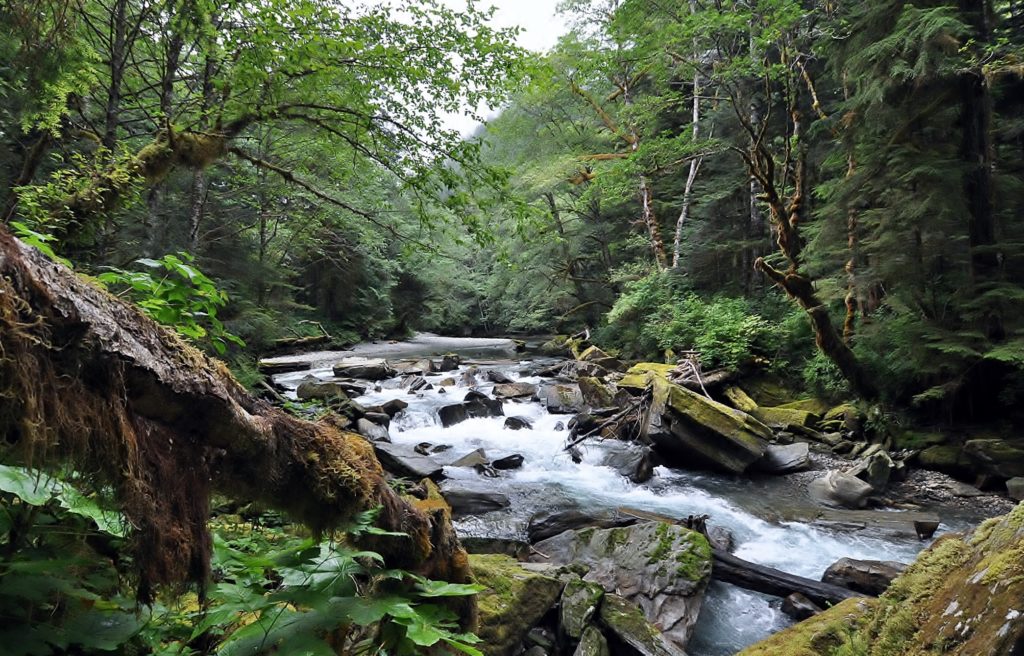 Beautiful spot
After lunch, our chosen activity was bear tracking. JJ and I thought this short course would come in handy for when we were in the Yukon – they have a serious grizzly population there too and we were planning some self-guided hikes.
Lastly, we opted for another bear viewing trip, this one was from a tree-top stand overlooking a salmon spawning channel. It wasn't long before a sub-adult grizzly came sploshing along at full speed, she kept us amused for a good few minutes with her interesting fishing technique. The bear was essentially trying to pounce on a fish with absolutely zero stealth, she wasn't successful but expended so much energy in her efforts, I couldn't help feeling sorry for her lack of reward.
Gonna get you this time….
…Hey, where d'you go?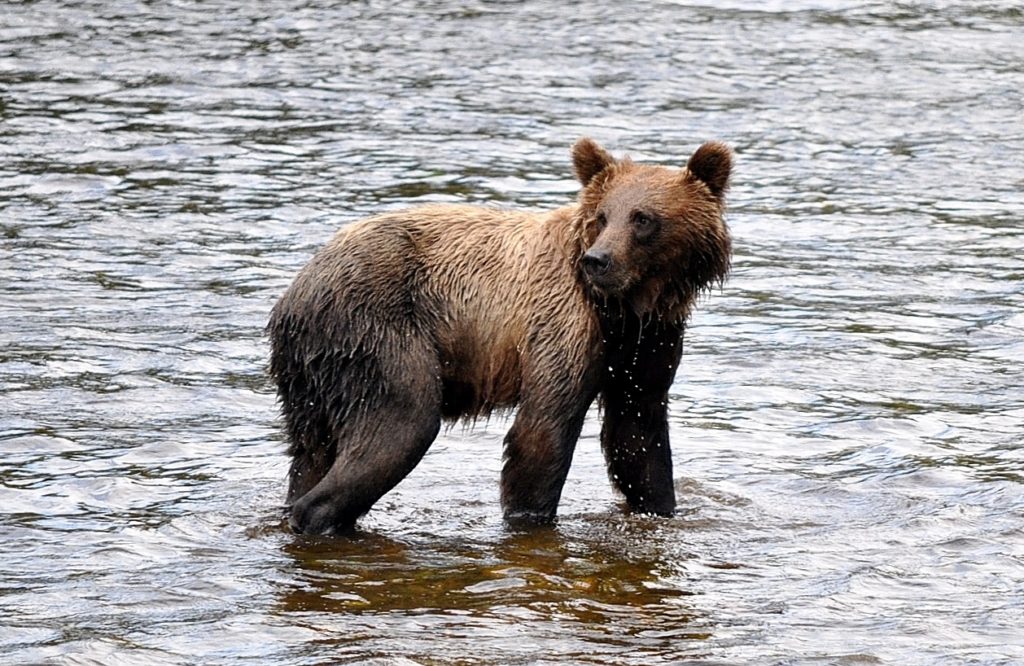 Ok, berries for dinner AGAIN
After another very tasty and satisfying dinner, I was browsing in the gift shop when the alert was given that a small black bear had been spotted on the shore behind the lodge. I just managed to grab my camera in time to capture a couple of pics.
Black bear
Just grazing
Farewell Knight Inlet Lodge
We were given the option of heading out for one final activity before getting the floatplane back to Campbell River. JJ and I chose to go early morning kayaking around the estuary – aahhh the serenity.
Juvenile bald eagle
Blue heron
Time to leave
Farewell Knight Inlet
What a priceless experience we had with Knight Inlet Lodge! I cannot say enough positive things, not only about the location and the wildlife viewing but also the staff and the seamlessness of the lodge operation. The guides are all knowledgeable, personable, enthusiastic and passionate about their work – we learnt a lot during our stay and met some great people.
Throughout the various tours and activities, respect for the bears and their ecosystems was continually reinforced. Knight Inlet Lodge have been working tirelessly with the local hunting community to restrict the legal trophy hunting of bears, with a view to eventually having it banned altogether in British Columbia. If you're interested in signing the 'Stop the hunt' petition here's a link.
Next week's post will be all about our arctic summer adventure with polar bears and beluga whales…..